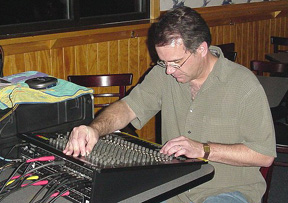 KEN HARVEY bought his first rock music at age 7; an interesting LP that had 4 young men from England on the cover. It was on the VeeJay label, and was entitled Introducing The Beatles. Soon after, his mom bought him a Herman's Hermits album, and from there on, his interest in music grew. "I began to collect music as I began my teens, eventually amassing a collection of well over 1100 LP's. The bulk of this was accrued during the 70's, the era of Classic Rock. Still the best rock music, in my opinion."

In college, Ken studied radio and television production, graduating with a degree in communications too long ago

That was his first experience with the technical aspects of producing music. During his college years, he also began to learn guitar, progressing to the point of being able to play rhythm guitar at a non-professional level. Ken says his talent lies "behind the scenes", making the music sound its best.
Through relationships established at church, he hooked up with Marc and Kevin, and the rest is history. "I get to mix music for an excellent band, and get paid for the fun! That's my brief story; not as weird as Garner's, but I'm sticking to it!"