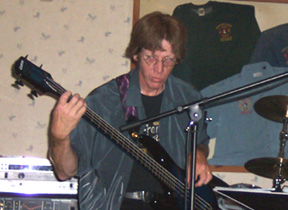 PAUL ANTHONY JONES knew from a very early age that he wanted to be a musician after seeing the Beatles on television. He started taking drum lessons when he was six, and attended his first concert at Constitution Hall in Washington D.C. with his teacher. Buddy Rich was playing that night.

After two years of banging on the skins, Paul's mother encouraged him to start classical piano training; but after six years of playing Beethoven and Chopin, Paul decided to turn his talent towards the bass guitar.

Together with his best friend Rob, they formed their first band "High Voltage", playing backyard parties and talent shows. At age 21, Paul became a husband, marrying his childhood sweetheart and lifelong "groupie" Peggy Bradley. A short time later, he found himself a father, and dedicating the majority of his time to his family.

Years later, when his children were older, Paul decided it was time to start playing in bands again. Answering an advertisement in the local paper, he auditioned with "Random Access," a classic rock band from Bowie, MD. After two years with them, Paul joined the "Bad Weather Boyz," a Motown band playing the local bar scene in Annapolis and Columbia. In addition, he also formed "Two of a Kind", an acoustic duo with his long time friend Steve Long on the guitar.

Paul took a short break from the music scene, but soon it was time to start looking for yet another band. This time, he found an advertisement on the web for

, a Columbia-based classic rock band that played a lot of the same music he had played in his first band. Paul states, "I'm amazed at the talent level and professional attitude in this band. They are so dedicated to reproducing the songs as close to the originals as possible! It was just what I was looking for!"
Paul's musical influences include: Paul McCartney, John Lennon, John Paul Jones, Roger Waters, Geddy Lee, Victor Wotton, Steve Morse, Dave LaRue, and many more. Paul uses Carvin basses exclusively, with Hartke bass amplification.