"Alright, you primitive screwheads... Listen up!"
Bruce Campbell is one of my all-time favorite actors. I first discovered him in the intensely amazing trilogy of cult films Evil Dead, Evil Dead 2: Dead by Dawn, and Evil Dead 3: Army of Darkness. His portrayal of the character "Ash" in these films is truly a masterpiece performance. Next, I dutifully watched him every Friday night when he played the starring role in the television series The Adventures of Brisco County, Jr.. Finally, I enjoyed watching his guest appearances as Autolycus, the wise-cracking King of Thieves in the Hercules and Xena television series. Anyway, here are a hodgepodge of images, all Bruce related. Enjoy! Click on any of them for a larger image.
My friend Jeff drew and sent me this
one-of-a-kind birthday card one year.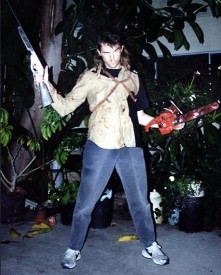 My friend Jeff dressed up as Ash
for a Halloween party one year.

These next three pics require some explaining. Bruce had just written a book about his life as an actor, and was holding book signing sessions throughout the country. I found out that one of the places he would be doing signings at was in Hollywood. So I gave my friend Jeff a call, and asked if he would be willing swing out there, buy a book, and get it signed by the man himself. "No problemo", he said; besides he wanted to get a copy for himself anyway. So on the actual day, he and our friend Mike drove out to the book store. However, Mike decided to don the infamous "Ash" costume that Jeff had created (see above photo). Needless to say, Bruce got a real kick out of seeing Mike decked out in full Ash garb. The following photos immortalize the event.
Mike (dressed as Ash) meets the real Ash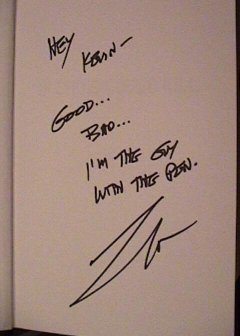 The actual Bruce autograph!
"Good... Bad... I'm the guy with the pen."